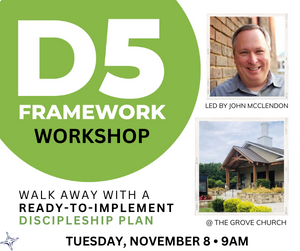 D5 Training
We don't want you to think of D5 as just another workshop. We like to call it a "Learn-Shop" or maybe a "Do-Shop" or even a "Walk-Away-With-a-Plan Shop"! Regardless of the name, you'll find your day spent with development of five core concepts, discussion with your team, and then development of the concepts into nuts-and-bolts action steps for your ministry.
The cost is $50.00 per church and includes:
Lunch for you and your team
A Ministry Plan Workbook
An in-depth demographic study of your church's context
Sessions led by John McClendon, Executive Director of the Disciples Leader Network
John brings with him over 40 years of ministry experience as a discipleship pastor, leadership trainer and denominational leader.  He most recently served as the Adult Ministry Leader of Northview Baptist Church in Murfreesboro, TN.