HIGH-QUALITY Printing FOR CHURCHES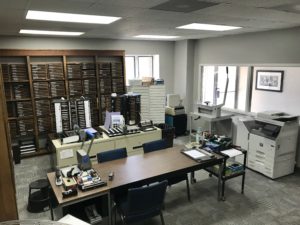 Our Workroom is open Monday, Tuesday, and Thursday 9am-4:30pm and Wednesday 9am-3:30pm No reservation is required, but please call ahead at 770-422-3347 if you need to use the laminating machine so we can warm it up for you.
Noonday has a workroom available to all association churches, schools, and preschools. The workroom carries all supplies needed in using our equipment. If you bring your own supplies, there is no cost to use the workroom. Some of the items in our workroom include:
Adhesive Back Machine
Binding Units (spiral and combs)
Button Maker
Corner Maker
CD/DVD Duplicator
Copier
Die Cut Machines
Die Cuts
Folding Machine
Laminators
Paper Cutting Machine
Paper Drill
Paper Punches
Pocket Laminator
Three Ring Hole Punch
CLICK HERE to download a pdf showing all available die cuts.